736 Ponce De Leon Ave
ATL KVLT presents
INSTITUTE
Uniform (ATL)
Glare
9pm | All Ages | $8
Politically speaking, not much has changed about the way Institute exists as a band since signing to Sacred Bones. Having members in Glue, Wiccans, and Back to Back, all fellow stalwarts of the Texas punk scene, helps streamline the approach for them, as all of their bands operate from the same basic ethos. In fact, singer Moses Brown has said they're only comfortable being on Sacred Bones because he considers the label "a punk label on steroids." (A note from the label--"Drugs, yes. Steroids, usually no.")

After demoing for several weeks at home in Austin, the anarcho punk band Institute tracked and mixed Catharsis in just four days between Christmas and New Year's Eve 2014, in New York City with Ben Greenberg at Brooklyn's Gary's Electric. "Cheerlessness" carves out the perfect trine foundation to aspect both the anthemic "Cheaptime Morals" and the much looser jam "Christian Right" (the latter featuring fellow Texan Andrew Savage of Parquet Courts). Issues of morality, sexuality and religion are all interwoven seamlessly throughout the 10 tracks as the band explores new sonic astral space.


1099 Euclid Ave NE
Atlanta, GA 30307
Triple D's & Tight Bros present:
THEE OH SEES
7pm | $20 | All Ages
Thee Oh Sees are the latest incarnation of songwriter, singer, guitarist (and Castle Face fearless leader) John Dwyer's ever-evolving pop-folk psychedelic group. Dwyer, who hails from Providence, RI, has been active on the San Francisco indie scene since the late '90s, working with several bands, including the Coachwhips, Pink & Brown, Yikes, Up Its Alive, and Swords & Sandals, among others, and he formed OCS (which is an acronym for Orinoka Crash Suite, Orange County Sound, or whatever Dwyer decided it was on any given day) initially as a vehicle for the experimental instrumentals he was producing in his home studio.
In time OCS morphed into an actual band, and worked under the usual flurry of names, most notably as the Oh Sees or the Ohsees, and eventually as Thee Oh Sees, featuring Dwyer on guitar and vocals, Brigid Dawson on vocals and tambourine, Petey Dammit (sometimes listed as Petey Dammit!) on guitar, and Mike Shoun on drums. Along with a relocation to Los Angeles in 2014 the band has re-spawned a few times into their current incarnation of Tim Hellman on bass, Dan Rincon and Paul Quattrone on drums.
887 West Marietta St. Studio C
Atlanta, GA
Triple D's, Tight Bros, Terminal West present:
PERTURBATOR
8pm | $20 | 18+
A former black metal guitarist who switched to dark synthwave, James Kent aka Perturbator got his genre-free attitude toward music from his parents, one of them being rock critic Nick Kent. He was given a Pantera album at the age of three, and a guitar at the age of 11. After learning Tool and Slayer riffs on the guitar, he began writing his own music, but Mom and Dad's synth collection was also calling, and the younger Kent took to the keyboards with both metal and cyberpunk attitudes. He debuted his sound with the 2012 EP Night Driving Avenger while two albums, Terror 404 and I Am the Night, arrived that same year. The combination of retro-techno and aggression attracted the developers of the campy and violent video game Hotline Miami, who added Perturbator to contribute to the 2012 game's soundtrack. The Sexualizer EP followed in 2013, and was reissued by the Finnish extreme metal label Blood Music. The label also issued Perturbator's concept LP Dangerous Days in 2014. Work on the Hotline Miami 2: Wrong Number soundtrack followed in 2015, then Dangerous Days' story of a religion using technology to persuade followers was continued on the 2016 concept album The Uncanny Valley. ~ David Jeffries, Rovi
1099 Euclid Ave NE, Atlanta, GA 30307
JEN KIRKMAN
The "All New Material, Girl" Tour
8pm | $20 | All Ages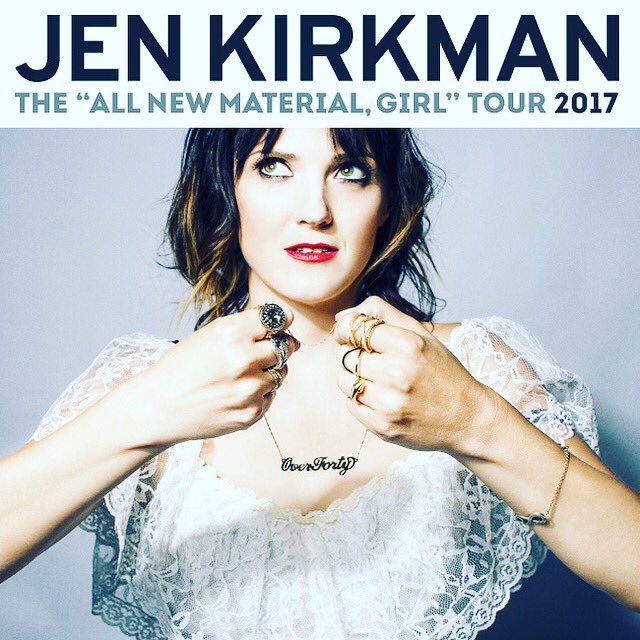 Jen Kirkman is a stand-up comedian and the author of the book, I Can Barely Take Care of Myself, which became an instant New York Times Bestseller in April 2013. Her debut Netflix Original Comedy Special I'm Gonna Die Alone (And I Feel Fine) is now available for streaming on Netflix worldwide.

Jen was a long time writer and round table guest on Chelsea Lately and is also well known for her roles as the narrator in many episodes of the web-turned-TV series Drunk History which is now in its third season on Comedy Central. You've also seen Jen on her regular appearances on Comedy Central's @midnight. She's done stand up on many late night shows: The Tonight Show with Jay Leno, Conan, John Oliver's New York Stand-Up Show and The Late Late Show With Craig Ferguson. She also voiced many characters on the Cartoon Network cult classic Home Movies.

Jen has released two stand-up albums Hail to the Freaks (released March 2011) which hit #13 on the Billboard Charts. Her debut album was 2006's Self Help. Jen has a weekly podcast, I Seem Fun: The Diary of Jen Kirkman, which is often in the top 100 in comedy on iTunes.

Her second book, "I Know What I'm Doing and Other Lies I Tell Myself; (Dispatches From a Life Under Construction)" will be released through Simon & Schuster in early 2016.
Jen tours the world as a stand-up and recently toured Australia to sold out crowds in both Melbourne and Sydney. She is currently based in Los Angeles.

"Jen Kirkman is a thinking person's comedian. Not by being hyper-intellectual--although she's a fiendishly smart writer and performer--but by doing comedy for people who live inside their own heads." - The Onion AV Club

"Jen Kirkman finds side-splitting laughs in lame weddings and dying alone."- Entertainment Weekly

"Ms. Kirkman knows how to deliver a one-liner, but her inclination is to linger in the telling of a story. She digs into a subject, embroidering it with jokes at various angles. A huge number of her bits culminate in vivid metaphors." -The New York Times